One of the most celebrated Hindu festivals is Ganesh Chaturthi, which is set to commence on September 19 and end on September 28 this year. People worship the Ganesh idol for a stipulated number of days before immersing the murti in water. This festival, initiated by Lokmanya Tilak, has a very rich history. However, the way we celebrate it raises pressing concerns, such as noise pollution from loud dhols, air pollution caused by fireworks, and water pollution resulting from the submerging of murtis.
As an individual, you have the power to make a significant impact and be a catalyst for positive change. One way to contribute to this change is by celebrating an eco-friendly Ganesh Chaturthi at home. Here's how you can do your part:
1) Clay Murti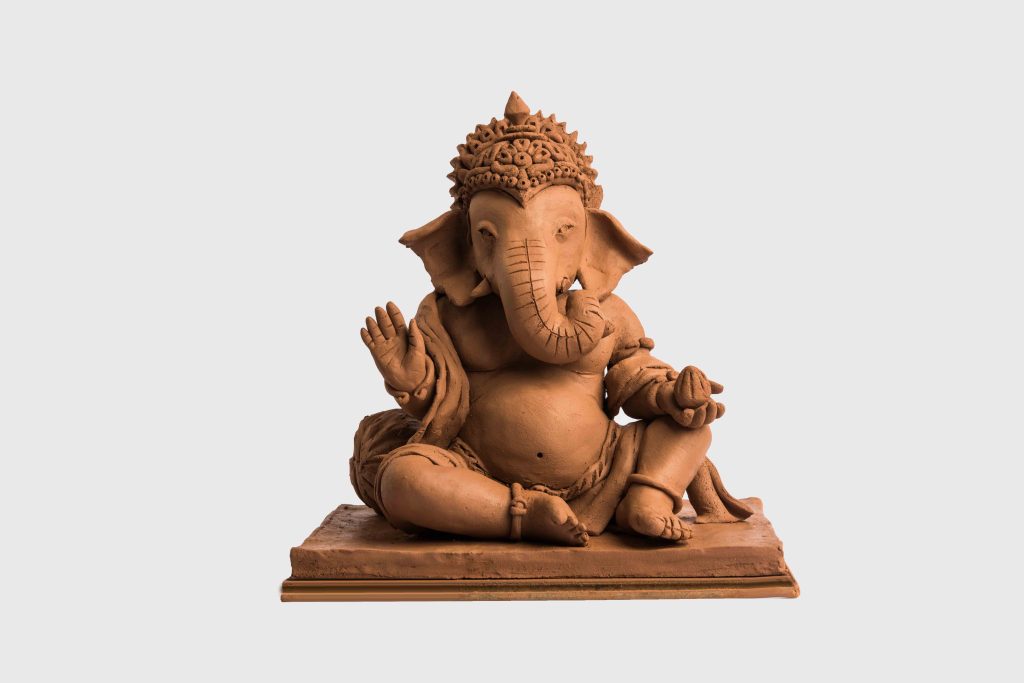 Plaster of Paris (PoP), which is used to sculpt the beautiful Ganesh murti, is a toxic and non-biodegradable chemical that adversely affects human health as well as the environment. This large-scale immersion has negative consequences for the ecology of the ocean, killing thousands of fish and other tiny sea creatures instantly. To safeguard the purity of the ocean, consider switching to clay murtis. These murtis are biodegradable in nature and dissolve in water within 45 minutes, unlike conventional murtis, which can remain intact for several months.
2) Home Immersions
In case you've already ordered a PoP murti, here's how you can turn the situation around. Consider immersing the Ganesh murti in a tub at home. This practice was prominently followed during the pandemic to respect lockdown restrictions. It is still a great way to honour tradition while being sustainable.
3) DIY Decorations
Although it's widely acknowledged that using thermocol for decoration is one of the least sustainable options, our consumerist tendencies often lead us to purchase ready-made decorative materials from the market, which, unfortunately, are not sustainable either.
Consider upcycling old newspapers, magazines, or cardboard to create decorative items such as paper lanterns, flowers, and garlands. Incorporate natural products like bamboo and jute to create beautiful wall hangings. Also, opt for cotton garlands instead of plastic ones for Ganesh Murti's decoration.
We understand that this is a labor-intensive task. So if you are short on time, consider investing in reusable decorations that can be used for years to come, reducing waste in the long run.
4) Energy Conservation
Instead of keeping light bulbs plugged in all day and night, you can switch to Diyas to illuminate the festive decoration. Not only does it add a natural aesthetic to your decor, but it simultaneously conserves a tonne of electricity.
In addition to adopting sustainable and eco-friendly practices, it's a wonderful idea to further contribute to the spirit of doing good by planting a tree. It is a great way to celebrate any auspicious occasion.
Known to dispel everyone's troubles, Ganpati is the god of new beginnings. Tree plantation initiatives mirror this notion as it symbolises starting anew. By fulfilling our environmental responsibilities, we respect and protect the world we have been blessed with on a spiritual level. Increasing our green cover will help offset carbon emissions, improve air quality, and support local biodiversity. It's a simple yet impactful way to give back to the environment and ensure a more sustainable future for all.
Our tree plantation initiative makes planting trees online a whole lot easier. We simplify the process by enabling you to plant trees for anyone, on any occasion. It's online and instantaneous. All you have to do is select where to plant a tree and dedicate or gift the personalised eTreeCertificate®to your loved one. It's that easy!
This Ganesh Chaturthi, plant a tree with Grow-Trees.
---