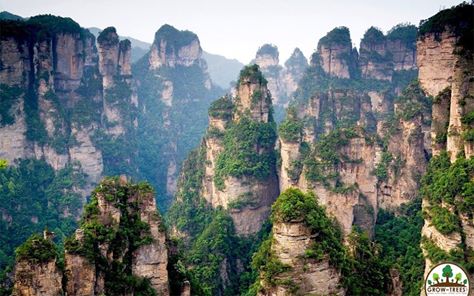 "Amazing Rock Column Forest of China!
Zhangjiajie National Forest Park includes over 3,100 sandstone pillars of varying heights with some reaching over 2,600 feet, lush valleys and dense forests, lakes, caves, waterfalls and streams
It is located in Zhangjiajie City in northern Hunan Province in China. In 1982, it was recognized as China's first national forest park with an area of 11,900 acres and in 2004, it was listed as a UNESCO Global Geopark.
The most notable geographic features of the park are the pillar-like formations that are the result of many years of physical, rather than chemical erosion. The weathering which forms these pillars are the result of expanding ice in the winter and the plants and trees which grow on them. The weather is moist year round, and as a result, the foliage is very dense.
One of the quartz-sandstone pillars, around 3,540 feet had been officially renamed ""Avatar Hallelujah Mountain"" in honor of the famous film ""Avatar"" in January 2010. James Cameron, the film's director and production designers said that they drew inspiration for the floating rocks from mountains from around the world, including those in the Hunan province."