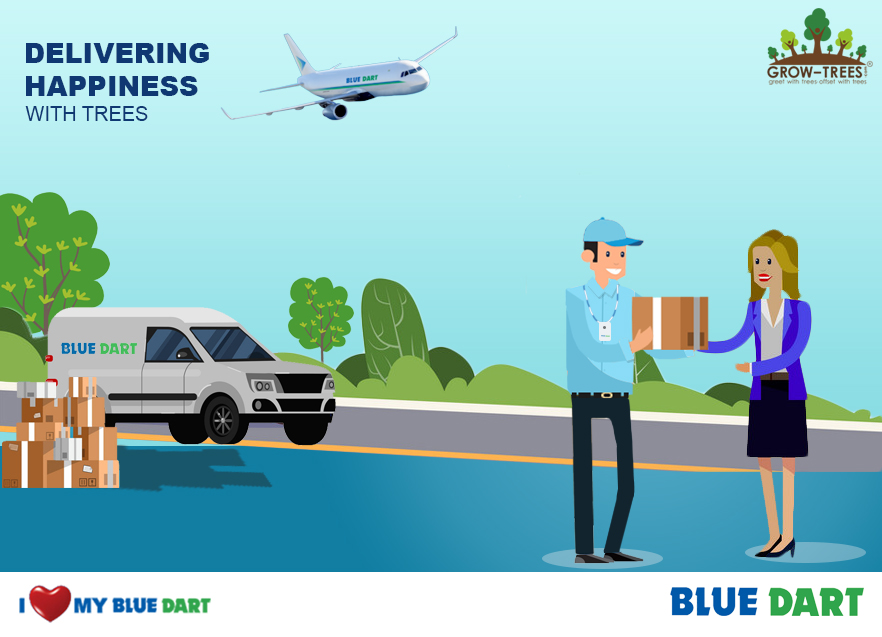 Being a part of 'Grow-Trees' journey for about four years, Blue Dart Express Limited has planted a total of 452,000 trees across India to help offset the carbon footprint created by its operations. It is heartening to see corporations step forward and take responsibility for the environment, an aspect of our lives that we take for granted as a community.
Ketan Kulkarni, CMO and Head – Business Development, Blue Dart Express Limited, says, "Sustainability has been an integral part of the company's strategy since its inception, emphasising the brand's commitment to being responsible and working with communities' to amplify its three pillars (GoTeach, GoHelp and GoGreen) under the motto of 'Living Responsibility'. Our parent company, Deutsche Post DHL (DPDHL) group has embarked on a journey to achieve 'Zero Emissions by 2050' and be the industry benchmark for responsible business practices. Blue Dart is committed to the group's mission and has partnered with Grow-Trees.com to plant 4,52,000 trees as on date while contributing to over 10% of the DPDHL Groups' global target of planting 1 million trees a year."
Blue Dart has contributed towards plantation of 3,41,000 trees for the tigers in the Kanha-Pench corridor, Maharashtra; 25,000 trees for the tribal communities in Koraput, Odisha; 20,000 trees for community-based Ecotourism in Sikkim; 10,000 trees to support tribal livelihood in Nimbhora, Maharashtra; 20,000 and 36,000 trees for the villagers in Chittoor, Andhra Pradesh and Kheda, Gujarat, respectively.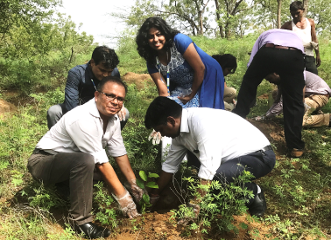 Global warming, a phenomenon directly related to the presence of greenhouse gases in the atmosphere is influencing drastic climatic events in the form of overcooling in some parts of the world and over-heating others simultaneously.
Carbon dioxide (also a greenhouse gas) is emitted from the burning of fossil fuels like coal, oil and natural gas, deforestation, decomposition of natural matter and of course respiration. The occurrence and release of CO2 isn't unnatural, but when present in excess amounts, they trap heat, causing the environment to get warmer, which in the long term will result in global cooling i.e. speeding up our descent into an ice age. Trees feature in our efforts to slow down climate change by helping alleviate the effects of global warming in our environment. Blue Dart, by supporting the plantation of 4,52,000 trees as on date, has helped offset approximately over 9 million kgs of carbon annually (once the trees reach maturity).
But what else does that mean for the environment?
For one, cooler temperatures around the regions where these trees are planted would be observed in the nearing future. Trees absorb CO2 which has the effect of moderating temperatures. The project sites in which these trees have been planted are located in rural areas where farming and agriculture are prevalent. The trees also play a role in the agroforestry systems in these regions, making farming a sustainable, profitable and ecologically viable method of land-use. Endemic biodiversity that is dependent on trees such as local bird species, insects, as well as domestic and wild animals that derive their nutrition, obtain shelter and protection and create relevant ecosystems will get enhanced with the plantations.
In discussions with Grow-Trees team members, the rural communities highlighted how deforestation has led the wildlife in Kanha National Park and Pench Tiger Reserve to enter villages, often leading to destruction and injuries in both animals and villagers. The region's economy is majorly dependent on agricultural activities, which tends to get hampered by animal invasion. With the vision to rebuild the wildlife habitat to preserve the tigers and enhance the economic conditions of the rural communities residing in the Karwahi district, Blue Dart and Grow-Trees have joined hands in creating a sustainable ecosystem. The trees planted in the region will provide the resources required to sustain tiger population in the forests, while also benefitting the rural communities. Trees such as tamarind, karanj, lime, etc. not only provide the communities with additional food sources but also enhance their opportunities to create alternative livelihoods. A major part of the plantation includes bamboo trees, which when sold can reap as much as INR 40 per shoot. These trees, upon maturity, hold the capacity to build a sustainable economy for the villagers.
The rural communities living in Karwahi, Maharashtra find themselves largely dependent on agro-forestry. Grow-Trees.com CEO Mr. Bikrant Tiwary recounts an interaction with the villagers that revealed the communities' dire need of sustainable employment and wherewithal to stay independent of resources that come from towns and cities. Essentials such as medicine, food, fuel and fodder for livestock are all derived from the neighbouring forests. Initiating the project under the supervision of the village's first female Sarpanch, the plantation project has been successful in empowering the women of the region. Parvati Narayan, who has been associated with the plantation work at Karwahi, indulging in raising the nurseries, watering plants and during maintenance, lives with a bed-ridden husband and is the sole bread earner of her family. At an old age of 62, she had to keep switching temporary jobs, often being unemployed and unable to feed her family of two. "Before the plantation began, I did not have much work, but now I come here every day and help in whatever way I can. It feels good to be involved in an initiative that is not just putting food on my plate but also benefitting my fellow villagers. I am now able to meet the medicinal needs of my husband and take proper care of him without worrying about where to work next. We are thankful to the teams involved in providing jobs to so many women like me.", stated Parvati in an interview with Grow-Trees coordinators. (Statements translated from Marathi)
Trees planted for uplifting local communities especially tribal groups are also significant in creating employment for the members of such communities that are being forced to resettle in urban centres to earn a livelihood. The communities use the fruit, flowers, leaves, and bark of the trees for food, medicine and fodder–for their own consumption as well as their livestock. Take for example moringa oleifera, best known for giving the world drumsticks. Each tree can yield between 200-400 pods per season. With minimum selling price being set at INR 25-30 per kg by the Indian government, rural communities in Nimbhora, Maharashtra stand to profit a great deal by the sale of moringa. The revenue from the sale of moringa is allocated to the public coffers and invested in the development of the village as a whole. The trees have a life cycle of about 15-20 years and yield produce all year round.
Likewise, communities that harvest amla stand to earn a substantial income from its sale for all this medicinal property.
Similarly, communities in Dalapchand in Eastern Sikkim are dependent on forests and its endemic biodiversity to attract tourists, thereby, improving the standard of living among the regional communities living there. The plantation of trees at the Periphery of Pangolakha Wildlife Sanctuary will, as the trees mature, help preserve the ecological integrity of the forest land surrounding the Pangolakha Wildlife Sanctuary and add to the natural beauty of the state–a major draw for visitors. Sikkim is home to a variety of rhododendrons, alpine lakes, unique species of moths and butterflies, 588 different types of orchids and a plethora of medicinal plants that create an ecosystem different from others.
Planting trees in rural, communally owned lands is a practice that will pay-off in the coming years as development and industry claim more forests and jungles in the country. The ultimate test of modern technology, innovation and development is its ability to do well by doing good and finding ways to minimize the impact by proactively empowering communities and conserving the environment. Grow-Trees appreciates the contribution made by Blue Dart to support our initiative of rebuilding and enhancing the natural wildlife habitat of the Tigers and other animals residing in and around these regions to revitalise their population and create a safe living environment.