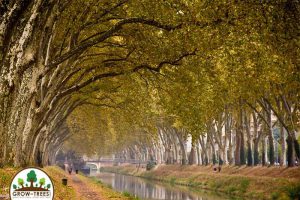 Canal du Midi in France has over 40,000 trees along its banks!

It is a UNESCO World Heritage Site and was commissioned by Sun King Louis XIV in the 1600's. The plane trees were added in the 1830's to strengthen its banks, offer shade from the sun to those using the waterway and also to reduce evaporation.

It is a tree-lined avenue of 150 miles or 240 kms. This historic French waterway is celebrated as an engineering feat and a natural work of art. The canal became an example in Europe as throughout the 'Age of Enlightenment' it was the only canal of this size in Europe.

You can walk, cycle along the banks or travel by boat to experience this beautiful tree lined path.