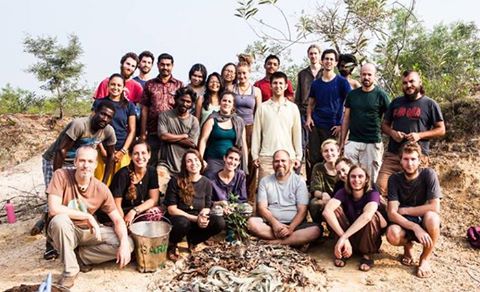 "Sadhana Forest, a place where volunteers from 50+ countries transformed 70 acres of arid land into a forest!
It is located Puducherry in Tamil Nadu, India and run by Israeli environmentalists Aviram and Yorit Rozin. Eleven years ago, Aviram, his family and a set of volunteers began planting trees acre by acre and the word spread. Soon, the forest had eager volunteers.
The big challenge was water conservation and for that they went around digging percolation ponds, building swales, bunds, earth dams and more to make do with available water resources. These volunteers worked tirelessly every day for the land that is not theirs and whose fruits they will never reap. It is not just the foreign volunteers, local people too have been very supportive of the project and Aviram says that they have a treasure trove of information on local plants and their uses.
Now, the forest is filled with birds and insects of all kinds and trees bearing fruit, thanks to the volunteers' efforts in planting 29,000 tropical dry evergreen forest plants of 160 indigenous species. Katharina, a Swiss volunteer sums it up, "May there be more forests to grow people!""