As wedding season gets into full swing, you might find yourself attending a wedding every weekend. Choosing unique and thoughtful wedding gifts can be a daunting task, especially when you want to find something that truly reflects the couple's values. If eco-consciousness is at the heart of their lifestyle, here's how you can personalise a green gift that perfectly aligns with their preferences.
1) Eco-Friendly Home Goods:
Help the newlyweds start their lives together with a collection of home goods that are kind to the planet. Ditch the disposables and embrace sustainable materials like bamboo, recycled glass, and organic cotton. Picture this: a kitchen stocked with bamboo utensils, stainless steel straws, and organic cotton dish towels – practical, eco-conscious, and stylish all at once. These wedding gifts are not only a testament to their values but also add a touch of elegance to their new home.
2) Experience-Based Gifts:
For couples who value experiences over possessions, consider gifting them a memorable, eco-friendly experience. Whether it's a weekend getaway at an eco-resort or tickets to a sustainable cooking class, experience-based wedding gifts create lasting memories while minimising environmental impact. Pottery classes and escape rooms have been the hype recently! Choose activities that align with the couple's interests and offer them the opportunity to connect with each other and the world around them.
3) Customised Eco-Friendly Artwork:
Celebrate the couple's unique love story with a customised, eco-friendly wedding gift. Seek out local artists who use sustainable materials or recycled elements in their creations. A personalised piece, such as a hand-painted map of the location where the couple met, adds a meaningful and artistic touch to their new life together while promoting sustainability within the art community.
4) Subscription to Sustainable Products:
Consider gifting the newlyweds a subscription to a service that delivers sustainable products to their doorstep regularly. Subscription boxes focused on eco-friendly living can include items such as organic snacks, natural beauty products, or environmentally friendly household goods. This wedding gift will keep on giving, introducing the couple to new and exciting sustainable products that align with their commitment to a more eco-conscious lifestyle.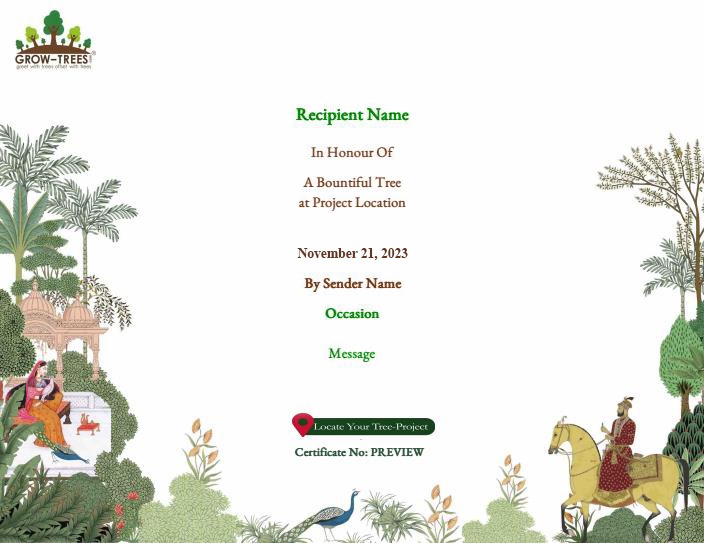 Celebrate the union of two souls with a gift that symbolises their enduring love and their commitment to a greener future. Grow-Trees.com enables you to Greet with Trees® by dedicating a grove of trees in honour of the newlyweds. Friends and family can also contribute to this grove, making it a collective expression of love and support. Their personalised eTreeCertificate® is a unique wedding gift for couples.
As the trees flourish, so will their bond, mirroring the strength and resilience of their relationship. You're not just gifting trees; you're planting a legacy of love and environmental consciousness. Start a grove today!
---